Bridge strikes continue to be a significant and recurring problem for the haulage industry with approximately 5 avoidable bridge strikes being reported per day. 
Network Rail recorded 1,833 bridge strikes in the financial year 2021-22 and have estimated these serious incidents to cost them around £23 million per year in bridge repairs and compensation for delayed trains. Network Rail can now reclaim 100% of these costs from those operators whose vehicles strike their bridges. 
Unsurprisingly, Traffic Commissioners are concerned, with this being reflected in their annual reports as well as the approach taken by the Senior Traffic Commissioner in the statutory documents 1 and 6*.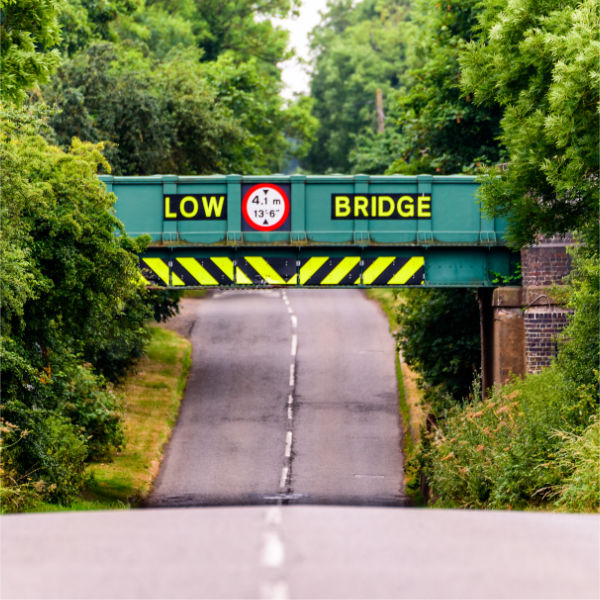 The consequences of a bridge strike for you
The Traffic Commissioner (TC) will consider the culpability of the operator and transport manager, you may be called to attend a public inquiry.

The TC could reduce, suspend, or revoke your Operator's licence.

Your Transport Manager could lose their repute – with impact on future employment.

Your driver can expect to be called to a hearing and may face a period of suspension.

Impact on your ability to obtain insurance in the future.

Significant and wide-ranging direct financial costs – at minimum, vehicle replacement or repair and associated costs of preparation for attending a Public Inquiry.

Commercial cost to the company's reputation and brand.
Also, as mentioned, you'll now face possible litigation from Network Rail to reclaim their costs for repair and compensation paid out to rail users.
Consequences for the public following a bridge strike
Injury to pedestrians, passengers, car drivers.

Possible train derailment, with repairs to the track and train.

Train delays, cancellations, and disruptions while the bridge is being inspected/repaired.

Road closures immediately after the bridge strike and during ongoing repairs.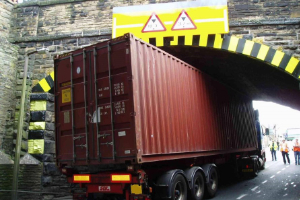 Network Rail released the list of the 10 most struck railway bridges in Britain 2020/21:
Stonea Road, Stonea, Cambridgeshire 33 strikes.

Lower Down's Road, Wimbledon, London 18 strikes.

Harlaxton Road, Grantham, Lincolnshire 17 strikes.

Abbey Farm, Thetford, Norfolk 15 strikes.

Stuntney Road, Ely, Cambridgeshire 12 strikes.

Harefield Road, Brakespeare Road South, West Ruislip, London 12 strikes.

Station Road B4105, Berkswell, Solihull 12 strikes.

Station Road, Langley, Berkshire12 strikes.

St John's Street, Lichfield, Staffordshire 11 strikes.

Coddenham Road, Needham Market, Suffolk 10 strikes.
Helping drivers to avoid a bridge strike
Network Rail research has shown that 43 percent of lorry drivers admit to not measuring their vehicle before heading out on the road, and 52 percent admit to not taking low bridges into account 
How can you help your drivers avoid the worst case scenario?
Create good practice by reminding your drivers to:
Check the height during walkaround checks and to recheck if they swap trailers or change vehicles.

Check the height indicators in cabs are set correctly after walkaround check.

Look out for bridge signs warning of height restrictions, and obey them.

Ensure the sat nav is designed for the vehicle type and size (if using one).
Do your bit to help them stay compliant by:
Route plan and risk assessing the route for bridges.

Ask drivers to phone the office if they are asked to re-route following a diversion sign – to risk assess if there are any bridges on the newly proposed route.

Train your drivers to use the Height Measuring Poles as part of their daily defect checks, and to always check again after a change in their load, or if they swap trailers.
Request our free bridge strike safety awareness poster 
To get a copy of our downloadable poster to display on your noticeboard, send us an email and we'll get a copy over to you.
Training you trust
Our DVSA Recognised and CPD Standards Office accredited e-learning solution delivers consistent, relevant and useful reminders to your drivers in the form of 15-20 minute Toolbox Talks once a month, accessible on any device. 
We have designed a Toolbox Talk with everything your drivers need to know to help them avoid a bridge strike. And, even better we are giving Transport Operators access FREE of charge!
Once set up, we'll support you with rolling it out to your drivers and you'll gain access to your very own company dashboard ready to monitor your drivers progress.          
To get started all you need to do is fill in the form here:
https://www.roadskillsonline.com/bridge-strikes
Sources| Network Rail | TC Statutory documents 1* and 6** | GOV UK
Photo credit | Network Rail
Published | September 2023
Collisions with infrastructure articles from Network Rail:
https://www.networkrail.co.uk/communities/safety-in-the-community/railway-safety-campaigns/wise-up-size-up/
https://www.networkrail.co.uk/news/drivers-urged-to-wise-up-and-size-up-as-scotlands-most-bashed-rail-bridges-revealed/
https://www.networkrail.co.uk/running-the-railway/looking-after-the-railway/bridges-tunnels-and-viaducts/the-risk-of-bridge-strikes/prevention-of-bridge-strikes/
Wise up Size up campaign from National Rail:
https://www.networkrail.co.uk/communities/safety-in-the-community/railway-safety-campaigns/wise-up-size-up/