Winter is here and weather conditions continue to fluctuate.  In order to stay safe whilst driving, many organisations suggest that you should create a winter driving kit in addition to:
Creating bigger gaps in front of you on all roads, giving yourself extra space to manoeuvre and stop

Slowing down giving yourself a better chance of not having a rear-end shunt collision

No harsh braking or harsh acceleration to reduce the likelihood of your car sliding into an object or the car in front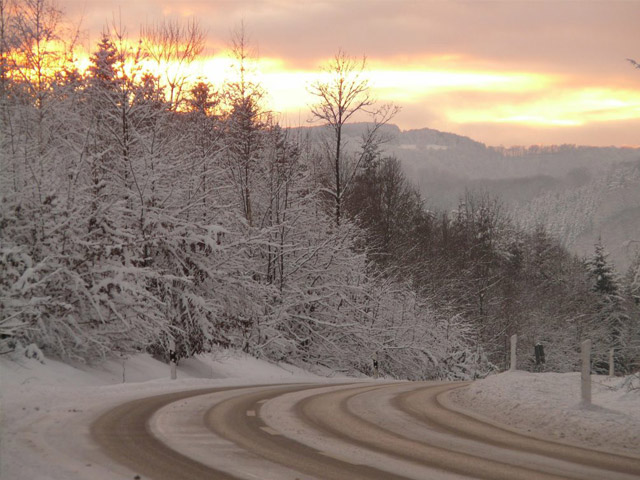 Not only can the roads be dangerous due to weather, but also due to other drivers not taking proper precautions to accommodate these conditions.
When bad weather is forecast, advise your drivers to have these items:
Warm winter coat, scarf, hat, gloves, and warm clothes

Waterproofs

Sturdy footwear

Flask of hot drink
Just like the Guides and Scouts it always pays to "Be prepared" if you know the weather is due to change for the worse. It's always wise to have a winter emergency kit in the vehicle, this could have these types of items:
Blanket, rug or sleeping bag

Shovel

Bits of carpet or thick cardboard to place under driven wheels to help regain traction on ice or snow

Salt, sand, or even cat litter – to help clear snow and ice

Reflective jacket(s)

Ice scraper and de-icer

Torch and batteries

Tow rope

Snow chains (if you live in a remote or rural area)

Snow tyres (even if you live in a city)

Battery jump leads

Bottled water

Snacks – chocolate or cereal bars

Extra screen wash
Please make sure you are checking the weather and road conditions to keep your and your drivers safe, if the weather is severe then question whether the journey needs to be made, or can it be delayed?  If not and the weather changes for the worse, having the emergency kit available and pulling over to wait for the weather to improve is a much safer option.
Road Skills Online Professional Development Plan
We believe that regular driver training can help to improve driver's behaviour on the road, helping you to save ££££'s on your bottom line. One of the monthly Toolbox Talks in our Professional Development Plan is on Winter Driving, designed to remind your drivers of what they need to know to stay safe.
Let our online driver training help you deliver Toolbox Talks to your drivers with ease.  Click below to get your virtual demo and a free trial!
Save time, save money and keep your drivers safe on the road, it's a win-win for everybody.
Source | The aa
Updated | November 2020