Are you looking for the Coronavirus blog on how you can help your drivers and link to the free Toolbox Talk? Click here.
Many people use a mobile phone when driving, mostly hands-free – but we still see drivers who can't resist the temptation to use their hand-held mobile phone – why is that?
Often, it's simply that "I've done it before, and it was OK" or "it's only a quick call". However, when things go wrong, the regret can last forever.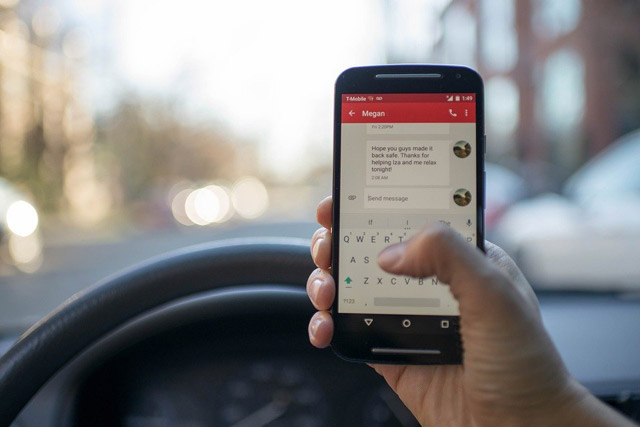 Using a hands-free phone is a distraction, causing even the most careful drivers to take their eyes off the road ahead.
It is against the law to use a hand-held mobile phone.
Texting and Driving
Did you know that texting and driving at 55 miles per hour is the equivalent of driving the approx length of a football pitch with your eyes closed?
This training video makes the dangers of texting and driving very clear. 
What do you think? Is it impossible to make a quick call or text, and drive safely?
The law on using mobiles phones whilst driving

It's illegal to ride a motorcycle or drive using hand-held phones or similar devices.

The rules are the same if you're stopped at traffic lights or queuing in traffic.

It's also illegal to use a hand-held phone or similar device when supervising a learner driver or rider.
It is clearly illegal and dangerous to use a hand-held mobile phone while driving, even using a hands-free phone causes a distraction. It puts a driver's licence and job in jeopardy.
Distracted driving can have serious consequences even in an emergency situation. Many fatalities have occurred because drivers are using their mobile phones whilst driving. Find out more about the Highway Code Rules 149 and 150 here.
Penalties for using your phone while driving
If you're caught using a hand-held phone while driving or riding, you could get:

An automatic fixed penalty notice

6 penalty points on your licence and a minimum £200 fixed penalty fine

A suspended HGV or PCV licence by the Traffic Commissioner

Drivers of buses or goods vehicles could get a maximum fine of £2,500
When you can use a phone in your vehicle?

If you're the driver, you can only use your phone in a vehicle if you:

Need to call 999 or 112 in an emergency and it's unsafe or impractical to stop

Are safely parked with your key out of the ignition
But if the police think you're distracted and not in control of your vehicle you could still get stopped and penalised.
Road Skills Online Professional Development Plan
We believe that regular relevant Toolbox Talks can help to improve driver's behaviour on the road, helping you to save ££££'s on your bottom line. Our monthly bite-sized Toolbox Talks cover Driving at Work extensively with a module covering Mobile Phone and Avoiding Collisions – designed to remind drivers of the law and the dangers of using their phones whilst driving. 
Let our e-learning help you deliver your driver professional development with ease, what's more, you can get a demonstration and free trial to test it out, just click on the banner below to book.
Source | Gov UK – Using a phone or a sat nav when driving 
Published | March 2020
Updated | January 2021