Network Rail released a statement on 9 November 2020 that in the last 12 months there have been 1,714 incidents where road vehicles have hit rail bridges across Britain.
There are an average of up to 5 bridge strikes per day with this number rising to 14 in the winter.
Network Rail estimate that bridge strikes cost them £23 million a year in bridge repairs and compensation for delayed trains. Network rail is now looking to reclaim 100% of the cost of the bridge strike from those operators whose vehicles strike their bridges.
Unsurprisingly, Traffic Commissioners are concerned about bridge strikes, reflecting in their annual reports, and the approach taken by the Senior Traffic Commissioner in the statutory documents 1 and 6*.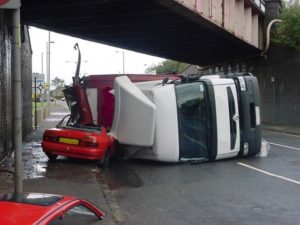 The consequences of a bridge strike for you
The Traffic Commissioner (TC) will consider the culpability of the operator and transport manager, you may be called to attend a public inquiry

The TC could reduce, suspend, or revoke your Operator's licence

Your Transport Manager could lose their repute – with impact on future employment

Your driver can expect to be called to a hearing and may face a period of suspension

Impact on your ability to obtain insurance in the future

Significant and wide-ranging direct financial costs – at minimum, vehicle replacement or repair and associated costs of preparation for attending a PI

Commercial cost to the company's reputation and brand
Also, you will face possible litigation from Network Rail to reclaim their costs for repair and compensation paid out to rail users.
Consequences for the public following a bridge strike
Injury to pedestrians, passengers, car drivers

Possible train derailment, with repairs to the track and train

Train delays, cancellations, and disruptions while the bridge is being inspected/repaired

Road closures immediately after the bridge strike and during ongoing repairs
Network Rail's 20 most struck railway bridges…
Network Rail released the list of the 20 most struck railway bridges in Britain 2019/20:
Watling Street Hinckley, Leicestershire: 25 strikes

Bromford Road Dudley, West Midlands: 24 strikes

St John's Street Lichfield, Staffordshire: 23 strikes

Stuntney Road Ely, Cambridgeshire: 19 strikes

Abbey Farm Thetford, Norfolk: 16 strikes

Thurlow Park Road Tulse Hill, London: 14 strikes

Carlisle Road Cleland, North Lanarkshire: 13 strikes

Harlaxton Road Grantham, Lincolnshire: 13 strikes

Stonea Road Stonea, Cambridgeshire: 13 strikes

Coddenham Road Needham Market, Suffolk: 11 strikes

Lower Downs Road Wimbledon, London: 11 strikes

Warminster Road Wilton, Wiltshire: 10 strikes

Prescott Street Wigan, Greater Manchester: 10 strikes

Greenhills Road Paisley, Renfrewshire: 9 strikes

Newhouse Road South Ruislip, London: 9 strikes

Kenworthy Road Homerton, London: 9 strikes

St John's Road Isleworth, London: 9 strikes

Jews Lane Twerton, Somerset: 9 strikes

Barrowby Road Grantham, Lincolnshire: 8 strikes

Cambridge Road Hitchin, Hertfordshire: 8 strikes
So how do you help drivers to stop them from striking bridges?
Create Good Practice
Network Rail research has shown 43 percent of lorry drivers admit to not measuring their vehicle before heading out on the road, and 52 percent admit to not taking low bridges into account.
Remind your drivers to:
Check the height during walkaround checks. Reminding them to recheck if they swap trailers or change vehicles

Check the height indicators in cabs are set correctly after walkaround check

Look out for bridge signs warning of height restrictions, and obey them

Ensure the sat nav is designed for the vehicle type and size (if using one)
What you should do to help your drivers and remain compliant:
Route planning – risk assess the route for Bridges to avoid them

Ask drivers to phone the office if they are asked to re-route following a diversion sign – to risk assess if there are any bridges on the newly proposed route

Train your drivers to use the Height Measuring Poles as part of daily defect check, and to always check after a change in their load, or if they swap trailers
Signage and permitted vehicle height
Traffic signs are provided at bridges to show the maximum permitted vehicle height when less than 16´-3˝ (4.95 metres).
• Red circles prohibit – If a vehicle is higher than the dimension(s) shown on a circular traffic sign, the driver must stop and not pass the sign
• Red triangles warn – If the vehicle is higher than the dimension(s) shown on a triangular traffic sign at the bridge, the driver should not pass the sign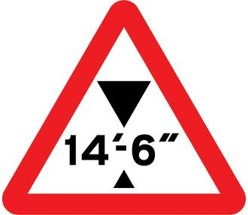 At arch bridges, white lines on the road and 'goal posts' on the bridge may be provided to indicate the extent of the signed limit on vehicle height, normally over a 3 metre width. There may be an additional set of 'goal posts' showing lower limits towards the kerb if the vehicle is higher.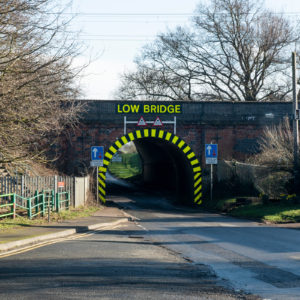 Road Skills Online Professional Development Plan
We believe that regular relevant Toolbox Talks can help to improve driver's behaviour on the road, helping you to save ££££'s on your bottom line. Our monthly bite-sized Toolbox Talks cover Driving at Work extensively with two of them covering Bridge Strikes.
Let our e-learning help you deliver your driver professional development with ease, what's more, you can get a demonstration and free trial to test it out, just click on the banner below to book.
Sources| Network Rail | TC Statutory documents 1* and 6** | GOV UK
Photo credit | Network Rail
Published | November 2020
Collisions with infrastructure articles from Network Rail
https://www.networkrail.co.uk/communities/safety-in-the-community/railway-safety-campaigns/wise-up-size-up/
https://www.networkrail.co.uk/news/drivers-urged-to-wise-up-and-size-up-as-scotlands-most-bashed-rail-bridges-revealed/
https://www.networkrail.co.uk/running-the-railway/looking-after-the-railway/bridges-tunnels-and-viaducts/the-risk-of-bridge-strikes/prevention-of-bridge-strikes/