Road Worthiness - How big is the problem?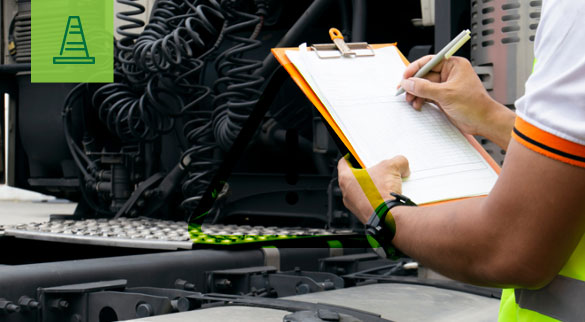 The Road Traffic Acts and Construction & Use Regulations make it law that a vehicle must be roadworthy when used on a public road.
How to comply with these laws is explained in various government guidance booklets. The main one for goods vehicles is the Guide to Maintaining Roadworthiness from the DVSA.
Whilst poor driving is a more frequent factor in fatal and serious collisions, it is also important to ensure that your vehicles do not become unsafe and pose a greater risk to public safety.
What is an HGV daily check?
There are no shortcuts to safety. Whatever the weather it is the driver's duty in law and for public safety to ensure the vehicle being driven is roadworthy by carrying out his or her daily checks before taking the vehicle out on the road.
Driver Daily Walkaround Check applies to HGVS, PCVs as well as Vans.
When vehicles are cleaned regularly on top, inside and underneath will this makes it easier to spot defects during the daily walk around checks and also at scheduled safety inspections.
An 'end of day' check is recommended to save downtime if defects arise during the vehicles working day that are not immediately apparent.
The importance of walk around checks
When your vehicles are driven with defects this will have repercussions on your O Licence and your Operator compliance risk score, should your vehicles be stopped and checked by the DVSA.
The DVSA uses the Operator Compliance Risk Score (OCRS) system to decide which vehicles should be inspected during roadside checks. As an operator, you get points when a test or inspection finds a defect or infringement of the rules. The more serious the defect or infringement, the more points you attract. The more times your vehicles are likely to be stopped and inspected.
Drivers may be fined or prosecuted for roadworthiness offences found on vehicles if they are considered partly or wholly responsible. 
Traffic commissioners can also take action, against a driver, who fails to complete an adequate walkaround check. This could lead to a driver conduct hearing, which may result in the loss of their vocational driving licence. 
The Driver Daily Defect walk around applies to your van fleet too. Having say a service van fleet, whilst operating under an O Licence, if the DVSA find a defect at a road-side check of the van, which was unreported due to an inadequate Drivers Daily walk around check before going out on the road, then operating a defective van will have repercussions on your O Licence.
Creating Good Practice – how to record the results of your daily defect checks
The Laws and Guidance make all drivers of all vehicles legally responsible for the condition of the vehicle when in use on the public road.
The driver daily defect check must be done before they drive your vehicle on the public road each day wherever the vehicles have been parked – home depot or away. If more than one driver uses the vehicle in a day, the new driver should do their own driver defect check before driving.
A walk around check must be done on any trailer whether owned by you or another company if your driver is pulling it.
Report all defects to the right person in the company and ensure drivers do not use/drive a vehicle with a defect making the vehicle unroadworthy until the correct course of action is agreed and actioned by your fleet manager.
Remember…
Your driver's daily defect report is a legal document

All the items on a driver daily defect report pad must be marked as checked

Show a Nil defect report clearly to prove you have done a walk around check and there are no defects.

Any defects should be reported to the responsible person and the vehicle not taken out onto the road if the defect affects the vehicle's roadworthiness until

the defect has been rectified by a qualified person

 the repair has been recorded as rectified on the Driver Daily Vehicle defect report

A defective light bulb can be changed by a driver, as long as they have been trained to carry out this task

Your drivers must hand in the defect report sheets to the responsible person for secure storage

You must keep defect reports for 15 months[AW1] [SM2] , whether they are on paper or held electronically
Drivers doing their daily defect check correctly will protect them and the company from fines and prosecutions.
Did you know that a quarter of prohibitions issued to van drivers are for defective tyres?
How long should HGV daily defect checks take?
The guide time to do a proper check is 15 minutes.
You should provide training to drivers to carry out the daily defect thoroughly including your company recording and reporting procedures.
You should issue drivers with the following to support their daily defect checks
a torch, for defects checks carried out where lighting is poor

a tyre tread measure

a toffee hammer to check wheel nuts (loose wheel nuts make a different sound to tight ones when tapped)

a vehicle height measuring stick, remind drivers to re-set the in-vehicle cab height indicator prior to setting off

other specific kit required to complete your company's vehicle check correctly
Remember to carry out audits that your drivers are doing a thorough check and know your  procedures and requirements. 
You should keep a written record of audits carried out and actions taken against a driver as appropriate (retraining / disciplinary).
You should check the PMI sheet and take action, where there is a defect noted that should have been reported by the driver(s) and be alert to a driver who reports any defects at service time where these should have been reported earlier.
Keeping within the Law and avoiding Fines
Continuous monitoring of Driver Daily Defects, the reporting and management of defects system is essential to ensure the effective management and control of the maintenance system. Driver Daily Defect reports are a key part of the maintenance of the vehicle.
Ensure drivers are trained and equipped to do their daily defect checks thoroughly, about 85% of roadside defects found by the DVSA could be avoided if the driver had done a careful defect check.
Ensure Drivers report Defects and your systems are in place to prevent defective vehicles from being used until the vehicle is roadworthy.
Ensure tyres are checked carefully using a tyre depth measure as well as looking for bulges, cracks and all nuts are correctly tightened. Did you know that a quarter of prohibitions issued to van drivers are for defective tyres?
Ensure only emergency repairs are done at the roadside. Routine maintenance, including safety inspections and repairs, may not be carried out on the public highway.
Ensure Daily defect reports including Nil defect reports, are stored for up to 15 months, whether this is a paper or electronic record.
The driver could be fined or prosecuted if a defect is found on your vehicle when used on the public road and you could be fined for not completing your defect report correctly. There are also repercussions on the company after the DVSA have completed a road-side check which shows defects.
Sources| Department of Transport | Guide to Maintaining Roadworthiness from the DVSA https://www.gov.uk/government/publications/guide-to-maintaining-roadworthiness
Information and guidance about OCRS  https://www.gov.uk/operator-compliance-risk-score
Published| May 2021