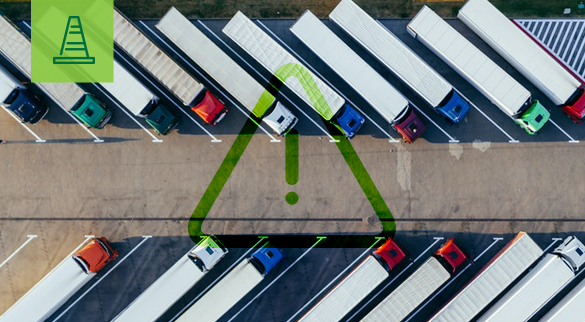 Many HGV lorry collisions are contributed to by poor reversing visibility and the driver's failure to compensate for vehicle size and obstruction. 
The majority of reversing collisions occur at low speed and could be preventable with some simple safety precautions and steps introduced to drivers to modify driving behaviour raising their risk awareness.
HGV reversing risks
The highest number of reversing commercial vehicle collisions happen at customer collection and delivery, accounting for 52%, then secondly on sites 29%, that's more than 80% of all reversing collisions.
Why is this? Could it be an unfamiliar territory or being rushed to get in for the delivery/pickup? 
Reversing risks at the company depot account for 4% of collisions, and being out on the route accounts for 15%. How do we account for this? 
Familiarity with their depot and drivers can probably take more time when parking in a layby or safe parking site.
Vehicle damage and insurance claims
Most drivers spend a minimal amount of their driving time in reverse gear, but the vehicle damage that occurs while reversing is one of the most considerable contributors to motor vehicle insurance claims regarding both the frequency of collisions and the total cost of the vehicle repairs.
Almost 60% of all commercial vehicle accidents involve reversing, with HGVs accounting for 19% of these, vans 15%, and company cars 10%. Damage usually results from the insured vehicle being reversed into an object, a building or another vehicle.
The danger to vulnerable road users 
In the very worst cases, a workmate or vulnerable road user could be the victim.
What are blind spots in driving?
Managing blind spots is crucial to the safe manoeuvring of your vehicles. This includes reversing large commercial and articulated vehicles.
The Highway code at rule 159 explains that the blind spot is the areas you cannot see in the mirrors.
This is a massive area for Commercial and articulated vehicles, both for:
Turning left - where there is always the danger to cyclists who want to turn as you turn at traffic lights or other left turns

Reversing - not only behind the vehicle, along the side opposite the manoeuvre which becomes a "Blind" side, as the mirrors do not see down the side of the turned articulated trailerHow can you manage rear blind spots?
How can you manage rear blind spots?
Training is crucial to show a driver the actual size of their blind spot using a walking test in a safe off-road location to show the driver how large and where the blind spots are.
Your vehicles will be fitted with mirrors to assist drivers with their reversing manoeuvring. There are options to help drivers, such as reversing sensors and reversing cameras besides the reversing marker.
Seven simple tips on reversing safely
Make sure that your drivers are confident in reversing your vehicles/ trailers. This will save you hours if drivers are invariably reversing the vehicle into site furniture/distribution centre loading bays or even other vehicles.
Drivers should practise reversing vehicles in a safe environment to know and manage their blind spots safely when out at client premises and unknown sites. 

Drivers should be trained to use all the reversing equipment fitted on their vehicles. 

You should remind drivers that when they are reversing their vehicles, they have no right of way. Suppose a vehicle approaches the lorry, as the driver is performing his reversing manoeuvre, from behind the vehicle. In that case, your driver must remain stationary and GIVE WAY until the other vehicle has passed them.

Drivers should always aim to enter and leave any road in a forward direction.

Drivers should never reverse from a minor road onto a major road.

If drivers are reversing across an obscured footpath or another area where there may be pedestrians, use the vehicle's horn to warn them or, if installed, the audible reverse alarm.

Drivers should give way to pedestrians if entering a roadway from a driveway.
Training for drivers on reversing
Reversing your huge vehicles is a tricky job for a driver – even doing a walk test for a sprinter van demonstrates the size of blind spots; they are larger than most drivers and managers appreciate.
It helps drivers to carry out their duties professionally and safely, reducing the risk if you train them in reversing and manoeuvring to be familiar with your vehicles. The time is well worth spending. 
There are two areas to concentrate on for training in the reversing manoeuvre – the planning is crucial.
Before they start reversing your lorry
Training before drivers start to reverse your lorry should include:
Know the vehicle size; if anything, they should imagine its longer than it is

Be aware of the size of their Blind spots and where they are

Check if there is sufficient space to reverse safely

Plan the manoeuvre, so they reverse safely 

Take their time; the extra time it takes to plan could save hours of inconvenience to both them and you in handling a collision into the site hardware or another vehicle 

Vehicles rear vision mirrors are clean and should be adjusted appropriately to their driving position to maximise rear vision

Trained to use the reversing camera or reverse parking sensor when fitted to help manage Blind spots

Check for any "hidden" obstacles or items such as pallets that are in the way of the manoeuvre

Check for any stop lines, buffers at loading bays, or wheel stops, structures or edges, or barriers 

Check the Vehicle height indicator in the cab use height pole if they think the reversing area has a height restriction or overhang which is not marked up

Check for pedestrian walkways, and nobody is in the reversing space

Ask for help if they "feel unsure" about reversing into space, ask for a Banksman 

Driver and Banksman agree the hand signals and 

Banksman should always be visible, and not in the space the driver is reversing into

The Drriver should immediately stop if he can no longer see the Banksman
While Drivers are reversing
Take it steady and smooth

Use their mirrors (fisheye) and any additional reversing aids available to them

Check both sides of the vehicle as they go through the manoeuvre

Slow manoeuvring is best, using no more than quarter turns as this allows for easier adjustments

If in doubt, stop, get out and check the space available, re-adjust the plan

When they are straight, reverse using a reversing marker to guide when to stop
Road Skills Online Drivers Professional Development Plan
Even the best commercial drivers can have difficulties reversing and managing their vehicles to reduce the risk of collisions; Road Skills Online helps you provide reminders for drivers on how to do their high-risk job safely with our industry-leading drivers' professional development plan.
Contact us for a free demonstration of eLearning. It will only take about 20 minutes and could save you hours delivering Toolbox Talks to your drivers on what to do and how you want them to do it, staying safe and compliant.
Sources